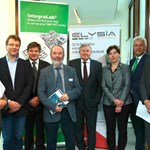 Small deal for IBA, huge step for Elysia
Small deal for IBA, huge step for Elysia
During the official inauguration of the CRC RadioMed, Elysia and IBA announced the signature of a collaboration contract. The contract was signed by Francois Moonen (CEO – Elysia) and Bruno Scutnaire (Vice President – IBA RadioPharma Solutions) in presence of the Wallonia minister of economy Jean-Claude Marcourt and Pierre Mottet, Chairman of the IBA Board.
This contract will give Elysia access to the IBA network and accelerate the international sales.
Elysia will develop and deliver quality control solutions together with IBA. The new space saving QC-cubicle® will enable IBA to deliver a fully integrated system which fits perfectly into the IntegraLab® ©GMP Radiopharmacy solution.
Read the full news (in French) -> rad4med.be and l'echo
Photo © 2015 Michel Houet for ULg
---