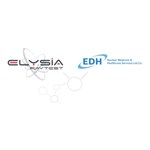 Elysia-Raytest signs an Exclusive Distribution Agreement with EDH for Elysia-Raytest products
Elysia-Raytest SA is pleased to announce that they have entered into a strategic agreement with EDH Nuclear Medicine and Healthcare Services that makes them our authorized distributor and support partner for selected countries.

The deal involves the exclusive distribution and service support of Elysia-Raytest
products in the countries where EDH has active presence including, but not limited
to, Albania, Azerbaijan, Bangladesh, Bosnia-Herzegovina, Croatia, Georgia, Jordan,
Kyrgyzstan, Kosovo, Lebanon, Macedonia, Montenegro, Pakistan, Slovenia, Serbia,
Turkey, Turkmenistan, Tajikistan, Uzbekistan as well as additional 16 non-exclusive
countries.
"We are happy to see that we can strengthen our collaboration with EDH with this
new contract and build on their strong presence in these markets. EDH will be a
major factor to continue and accelerate our market penetration in their territory"
commented François Moonen, CEO of Elysia-Raytest.
EDH and Elysia-Raytest have been collaborating and supporting each other since
early 2019, allowing both companies to learn and appreciate each other. It was this
level of trust that lead both companies to sign the current deal.
About EDH Nuclear Medicine and Healthcare Services:
EDH is the most innovative Service Integrator in the eld of nuclear medicine and
oncology oering state of the art solutions. EDH currently handles sales and marketing
of selected radiopharmaceuticals and radioisotopes as well as sales and after
sales support of equipment used in nuclear medicine and niche segments of oncology.
EDH also oers turnkey setup of radiopharmaceutical manufacturing plants and
nuclear medicine departments compliant to EU /USFDA GMP.

About Elysia-Raytest:
Elysia-Raytest is a competent and reliable partner for the global community in nuclear
medicine, Radio Therapy synthesis and Quality Control. The reputation of
Elysia-Raytest is based on the supply of high-quality hard- and software solutions and
services for quality control (QC) laboratories and PET tracer production synthesizers.
From metabolism research in pharmaceutical and agrochemical research to nuclear
medicine and PET, Elysia-Raytest supplies state-of-the-art devices and integral GMP
solutions.
Elysia-Raytest GmbH achieved ISO 9001 certication which is the highest quality
system of the global ISO 9000 series of quality assurance standards. It was developed
by the International Organization for Standardization (ISO).
With ISO 9001 certication, Elysia-Raytest established a denitive quality process that
ensures reliability and consistency from the initial idea up to the release of innovative
new products, furthering the company's position within the international scientic
community.
---